Calling all teen and tween readers! A big batch of new books are now available to check out in the Teen Library including Before the Devil Breaks You (The Diviners #3) by Libba Bray, It Devours! (Welcome to Night Vale #2) by Joseph Fink, Turtles All the Way Down by John Green, and many more.
Click the "Read More" link to check out the full list and feel free to call us anytime at 336-6060 or click the links below to get on the hold list for any (or all) of these titles…
Far From the Tree by Robin Benway
Three teenagers, biological siblings separated by adoption, explore the meaning of family in all its forms–how to find it, how to keep it, and how to love it.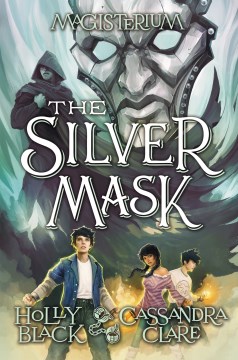 The Silver Mask by Holly Black
A generation ago, Constantine Madden came close to achieving what no magician had ever achieved: the ability to bring back the dead. He didn't succeed… but he did find a way to keep himself alive, inside a young child named Callum Hunt.
Now Call is one of the most feared and reviled students in the history of the Magisterium, thought to be responsible for a devastating death and an ever-present threat of war. As a result, Call has been imprisoned and interrogated. Everyone wants to know what Constantine was up to-and how he lives on. But Call has no idea. It is only when he's broken out of prison that the full potential of Constantine's plan is suddenly in his hands… and he must decide what to do with his power.
Book 4 in The Magisterium series.

Before the Devil Breaks You by Libba Bray
The Diviners face ghosts of the long-forgotten that are haunting an asylum and wreaking havoc all over New York City, and who also have dangerous ties to the King of Crows.
Book 3 in The Diviners series.

Alexander Hamilton, Revolutionary by Martha Brockenbrough
He was born out of wedlock on a small island in the West Indies and orphaned as a teenager. From those inauspicious circumstances, he rose to a position of power and influence in colonial America. Discover this founding father's incredible true story: his brilliant scholarship and military career; his groundbreaking and enduring policy, which shapes American government today; his salacious and scandalous personal life; his heartrending end. Alexander Hamilton comes alive in this exciting biography.
Sun Warrior by P.C. Cast
When the power-hungry Thaddeus targets Mari for the power he believes she has stolen, a tenuous alliance between the once-rival Earth Walker and Companion clans forces Mari and Nik to protect and trust one another.
Book 2 in Tales of a New World

It Devours! by Joseph Fink
When her leading scientist employer gives her an assignment to investigate mysterious rumblings in the desert wasteland outside of the town of Night Vale, Nilanjana Sikdar discovers the existence of a congregation of religious fanatics, including the powerfully attractive Darryl, who are plotting a ritual that threatens the local community.
Book 2 in Welcome to Night Vale series.
Monster by Michael Grant
When new meteorite strikes introduce an alien virus, humans develop unique superpowers that trigger a battle between teen hero defenders and supermonsters.
Book 7 in Gone series.
Turtles All the Way Down by John Green
It all begins with a fugitive billionaire and the promise of a cash reward. Turtles All the Way Down is about lifelong friendship, the intimacy of an unexpected reunion, Star Wars fan fiction, and tuatara. But at its heart is Aza Holmes, a young woman navigating daily existence within the ever-tightening spiral of her own thoughts.
The Stars Beneath Our Feet by David Barclay Moore
Unable to celebrate the holidays in the wake of his older brother's death in a gang-related shooting, Lolly Rachpaul struggles to avoid being forced into a gang himself while constructing a fantastically creative Lego city at the Harlem community center.

Ringer by Lauren Oliver
In the world outside of the Haven Institute, Lyra and Caelum are finding it hard to be humanand Lyra, infected at Haven with a terrible disease, finds her symptoms are growing worse. When Caelum leaves without warning, Lyra follows him, seeking a pioneering organization in Philadelphia that might have a cure. But what they uncover there is a shocking connection to their past, even as their future seems in danger of collapsing.
Book 2 of Replica series.

Book of the Dust by Philip Pullman
When Malcolm finds a secret message inquiring about a dangerous substance called Dust, he finds himself embroiled in a tale of intrigue featuring enforcement agents from the Magisterium, a woman with an evil monkey daemon, and a baby named Lyra.
Book 1 of Book of the Dust series.
Long Way Down by Jason Reynolds
Driven by the secrets and vengeance that mark his street culture, 15-year-old Will contemplates over the course of 60 psychologically suspenseful seconds whether or not he is going to murder the person who killed his brother.

I'm Not Your Perfect Mexican Daughter by Erika L. Sanchez
When the sister who delighted their parents by her faithful embrace of Mexican culture dies in a tragic accident, Julia, who longs to go to college and move into a home of her own, discovers from mutual friends that her sister may not have been as perfect as believed.

The Assassin's Curse by Kevin Sands
When Christopher Rowe's code-breaking uncovers the true target of an assassination attempt, he and his friends are ordered to Paris to investigate a centuries-old curse on the French throne.
Book 3 of Blackthorn Key series

Dear Martin by Nic Stone
Writing letters to the late Dr. Martin Luther King Jr., seventeen-year-old college-bound Justyce McAllister struggles to face the reality of race relations today and how they are shaping him.